Copenhagen, Denmark, October 24, 2022 – Auditdata can proudly announce that we have won two prestigious Hearing Technology Innovator Awards™.
Auditdata's best-in-class Practice Management Software (PMS), Manage, won in the Service Delivery – Practice Management category, and
Measure, its portfolio of audiological equipment run by advanced software, won in the Equipment – Hearing & Balance category.
Through the annual awards program, Hearing Health & Technology Matters (HHTM) recognizes technological innovation and achievement in the hearing industry. This year's awards program saw many innovative technologies in eight different categories, submitted from companies around the globe.
Since its inception, the awards program has helped raise over $20,000 to support the work of two non-profit organizations: the Hearing Loss Association of America and the Hearing Health Foundation.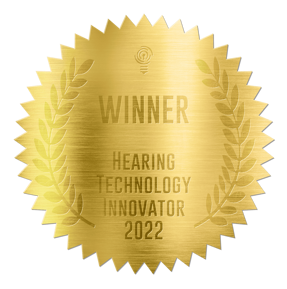 Auditdata Manage, a Practice Management Software designed specifically for the audiology industry, helps hearing clinics boost efficiency and provide exceptional care, with integrated clinical management, customer relations management, scheduling, marketing, stock control, reporting, financials, and more. The Manage system is fully loaded, offering everything a retail audiology business needs to maximize its successes.
Auditdata Measure, a portfolio of audiological equipment run by advanced software, lets hearing clinics manage and optimize clinical workflows based on data-driven insights. Measure includes audiometers that deliver all the testing protocols to drive clinical quality and the customer experience. Many audiometer types are available, including portable tools that are invaluable for audiologists conducting hearing exams out in the community. Measure provides all the testing module types audiologists need, including pure-tone and speech audiometry, as well as a real ear measurement module.