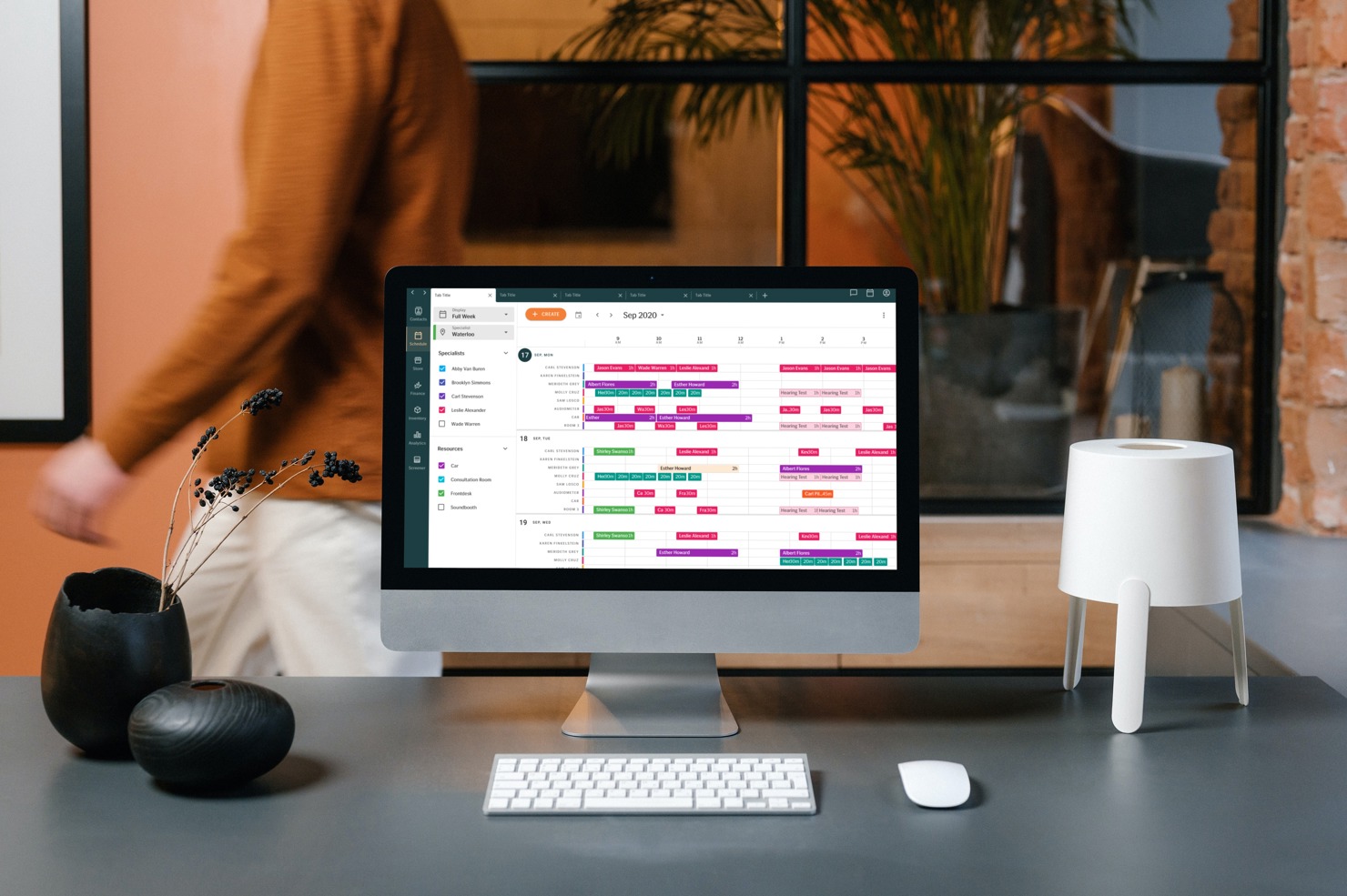 Blog
9 Effective PMS Features that Every Hearing Clinic Should Use
The right Practice Management Software (PMS) makes running all aspects of a hearing clinic easier, more accurate, and more efficient. An integrated PMS provides tremendous value, allowing hearing clinics to schedule smarter, conduct more accurate inventory, analyze data to make more informed decisions, manage reimbursements, and more.  As a result, hearing clinics can grow their business while providing exceptional care for their customers.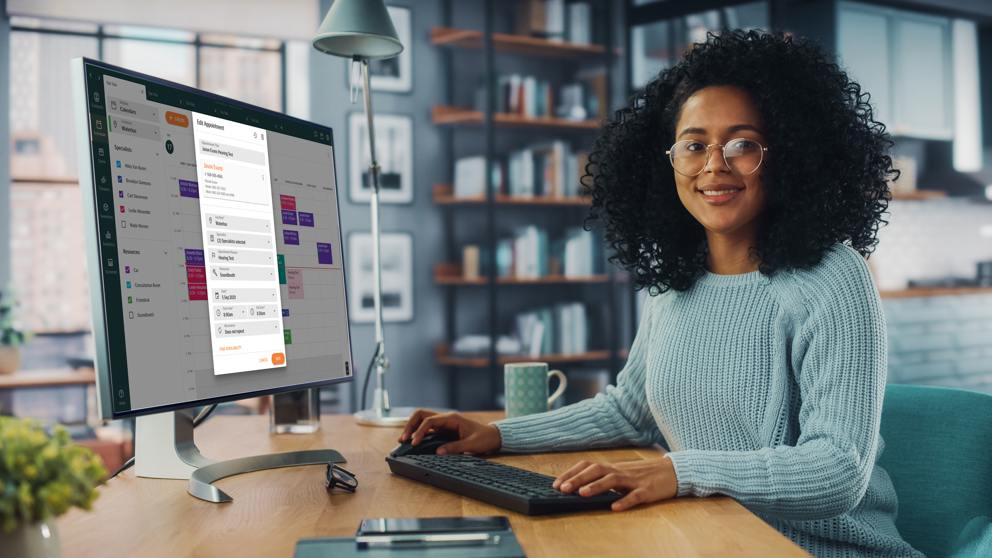 Managing staffing, maximizing resources, and reducing waiting times are huge challenges in the hearing care industry. Hearing clinics should use a PMS with effective, user-friendly appointment scheduling to maximize their resources and decrease customer waiting times.   
For instance, an appointment scheduler should offer advanced resource scheduling capabilities, allowing you to book audiologists, sound booths, and equipment in separate blocks.  
Use the PMS to seamlessly book an appointment with an audiologist for an hour, using a sound booth for 30 minutes and testing equipment for 15 minutes.  
Other PMS systems may let you schedule an hour-long appointment, but they can't reserve rooms or equipment for just a portion of that appointment.   
You can also make recurring appointments for follow-ups, which saves significant time. Recurring appointments can be scheduled daily, weekly, monthly, or yearly. 
An advanced scheduler allows you to book resources (clinicians, space, equipment) for the exact amount of time you need, improving efficiency by using resources wisely.   
Free Guide
How to Boost Revenue with Resource Optimization
Read this guide and learn the five steps to help organize a scheduling strategy that maximizes revenue, delivers opportunities, and visualizes all staff and resource availability across an enterprise. 
Read more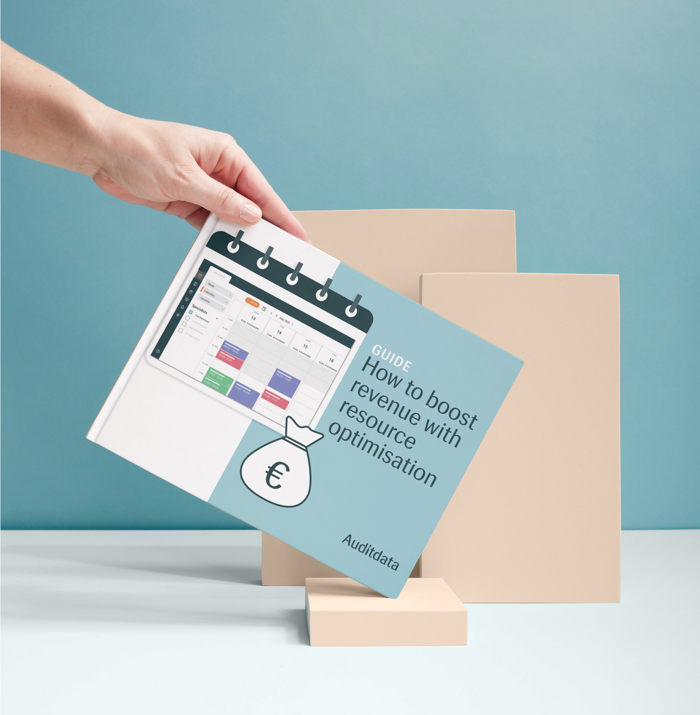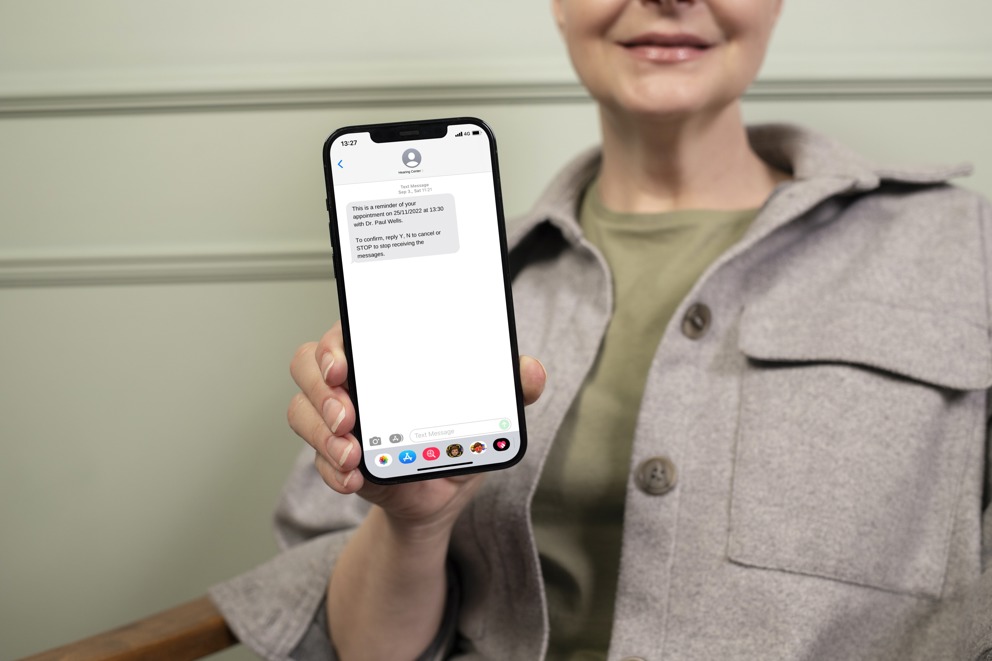 No-show rates in healthcare can range as high as 80% due to transportation barriers, personal or professional obligations, financial issues, bad weather, worries about a possible diagnosis, and simply forgetting about the appointment.   
Unlike a cancellation, where your clinic's staff could fill the open slot with another customer, a no-show results in lost time and revenue.    
In fact, the average cost of a missed appointment is $200. In the US alone, no shows cost medical practices more than $150 billion annually.   
A simple – yet effective – way to reduce customer no-show rates is to send automated appointment reminders through your PMS.   
Use your PMS to automatically remind customers about upcoming appointments via SMS messages and emails. Clinics can easily customize the content, timing, and frequency of the messages, leveraging each customer's preferred method of contact – phone calls, emails, or texts – to boost show-up rates.   
Use bidirectional text appointment reminders – meaning that customers can text you back – so customers can confirm or reschedule their appointment, get directions, and ask questions.   
The benefits include higher show-up rates and significant time savings when using automatic communication.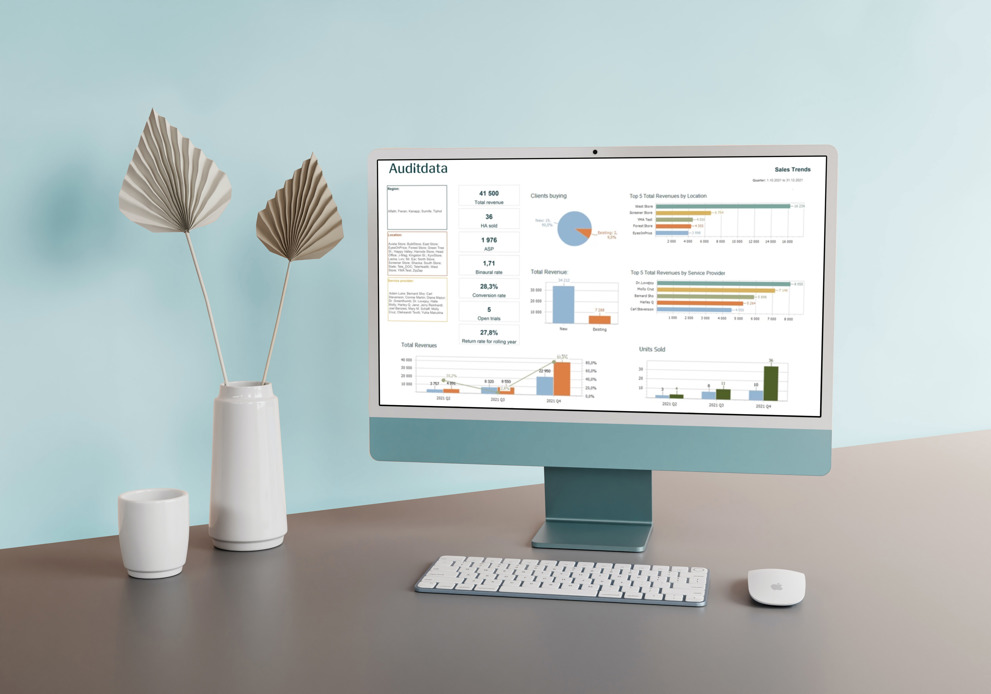 Audiology-specific analytics lets you easily monitor customer acquisition, clinical assessment, fitting, and general operational performance data points.
Insert your key performance indicators (KPIs) for all employees and clinics to track real-time performance. Using this data, you'll be able to measure key metrics and accurately adjust your approach as needed.
Reports provide critical data, allowing clinic leaders to make more informed decisions about staffing, scheduling, equipment utilization, reimbursements, etc.
This information will let you see what's going well across your enterprise. It can also help identify areas of concern (e.g., underperforming staff members, an inefficient scheduling model, overscheduled audiologists, high return rates, high no-show rates, etc.).
The reporting capabilities in Practice Management Software allow hearing clinics to manage their businesses better.  
Use a PMS to pull various reports, including user productivity reports, appointment outcome reports, etc. This improves transparency, giving you a comprehensive picture of your hearing care business.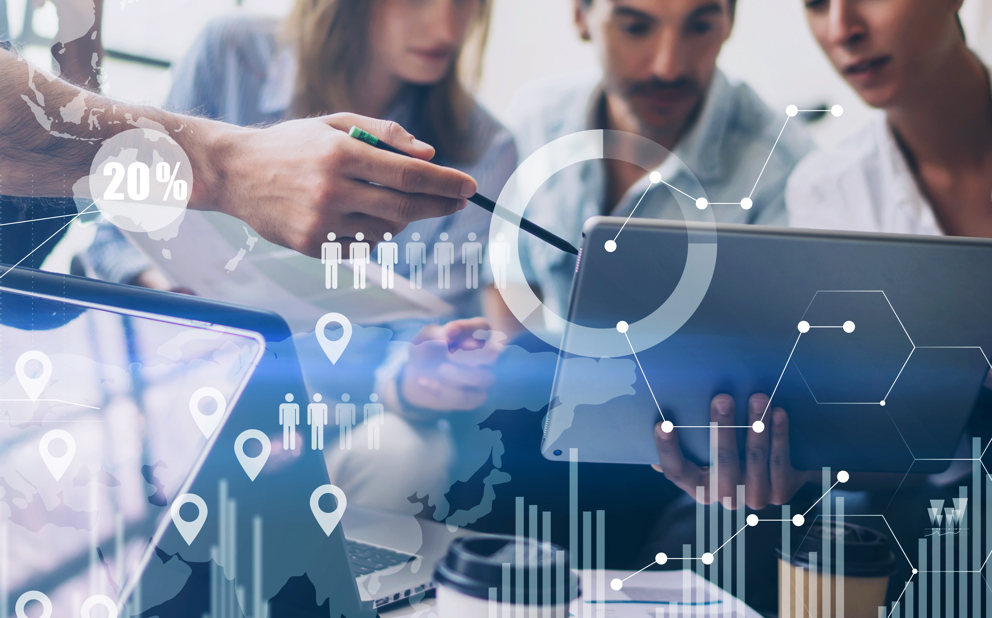 The key to a successful business is smart marketing. A PMS can amplify your marketing efforts, attracting more prospects to your clinics, converting more leads to hearing aid users, and retaining customers for life.   
A PMS helps you stay in frequent contact with customers, inform them of clinic news (e.g., new audiologists, innovative new products, etc.), educate audiences about the importance of hearing health, and regularly engage with priority populations.  
Use your Practice Management Software's innovative marketing and communication platforms to segment customers, prospects, referrers, and other key stakeholders successfully via digital marketing, in-shop communication, hearing screeners, etc.   
A PMS can improve your marketing efforts in numerous ways, such as segmenting your target audiences to provide appealing offerings to each group. Use your PMS to increase communication, spotlight loyalty programs, engage with critical demographics, and introduce new audiences to your clinics.   
Marketing tools can also help reduce customer turnover and related new customer acquisition costs. Additionally, a PMS can easily and accurately track your marketing performance and engagement.  
Simply export data from your PMS platform and send it over to a marketing automation system. From there, you can reach out to customers with your key messages.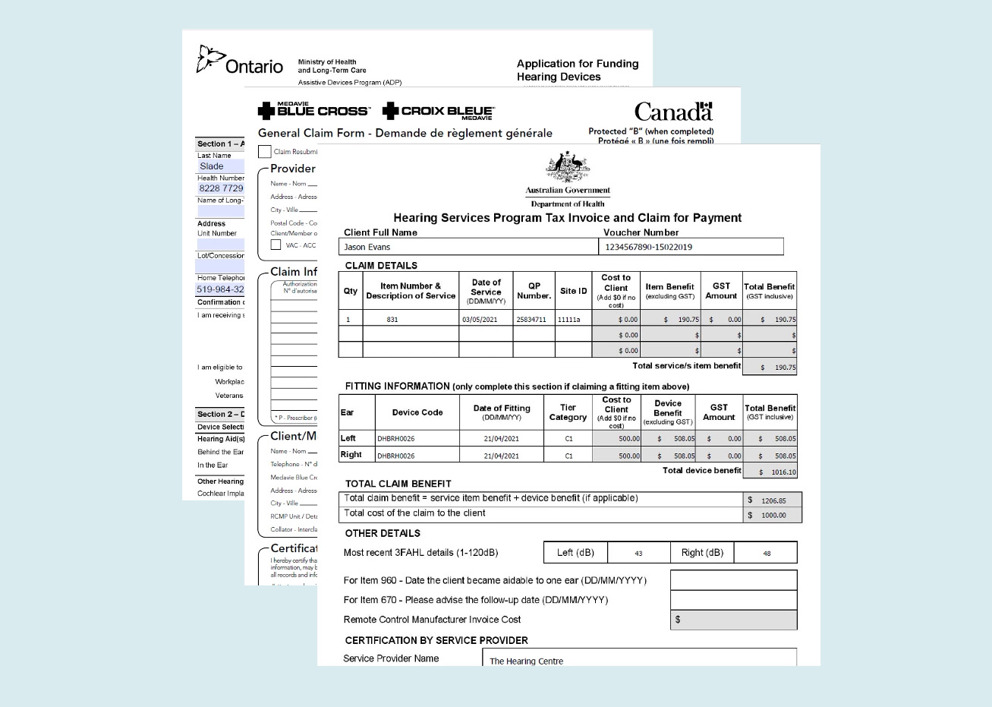 One key reason your audiology clinic needs a PMS that can handle complex reimbursement systems is to save time by not having to attempt this task manually.  
Use a PMS that is uniquely localized in different countries and well-equipped to support the differing reimbursement systems in Canada, the UK, Australia, New Zealand, etc.   
Otherwise, if businesses don't use a PMS – and attempt this task manually – they will spend significant time and energy trying to manage the complexities. Manual processes mean more time spent, errors, stress, and headaches.    
Use a PMS to simplify reimbursement processes, increasing the accuracy and efficiency of this effort.  
6. Cloud-Based Patient Records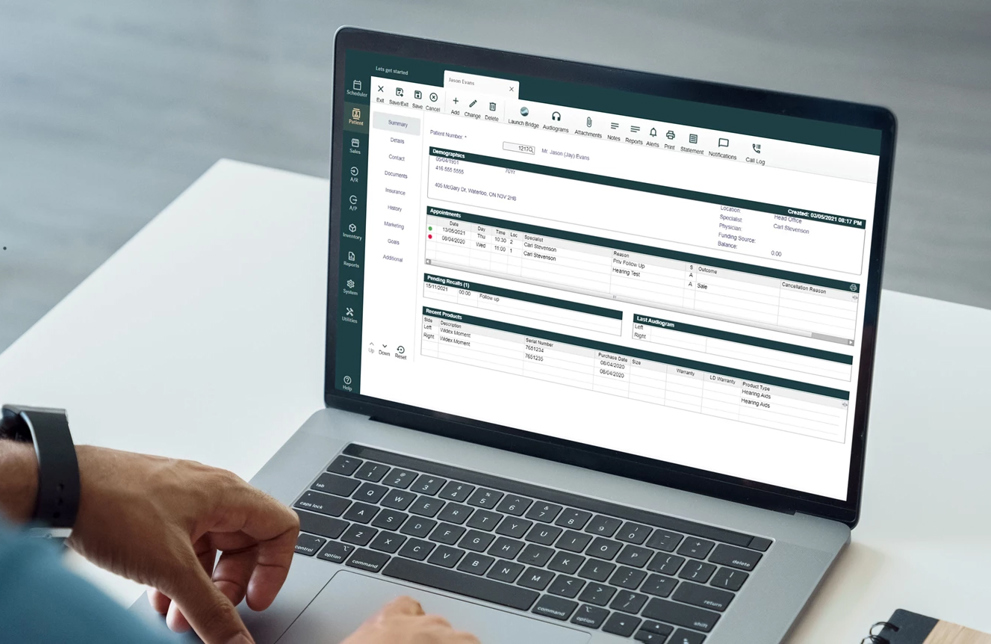 Using Practice Management Software that is fully in the cloud, gives better visibility and accessibility to hearing care clinics – especially multi-unit businesses. This way everyone within your organization can access and update clinical records in real time.   
Software solutions that are ISO-certified, meet the highest safety standards in the marketplace. Auditdata's system is hosted on Microsoft Azure, one of the most secure hosting platforms in the world.   
Since we offer the highest levels of data security, your hearing clinic can avoid costly, disruptive security and privacy breaches. You'll have peace of mind knowing that your confidential patient data is extremely safe on our system.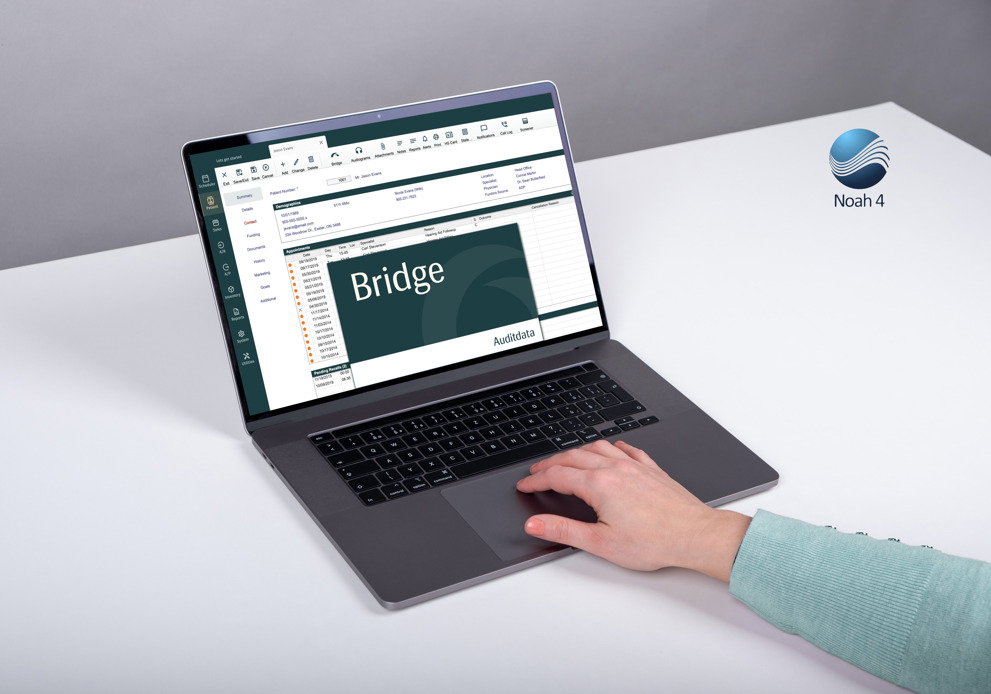 NOAH is the standard platform audiologists use to complete hearing tests and then program and fit hearing aids.   
The right PMS allows audiologists to work in NOAH online (in the office) or offline (out in the community, including remote locations with unreliable Internet).  
Auditdata's system allows audiologists to conduct a hearing test anywhere, using our compelling offline capability. Then, when you come back to your office, all the data will be synced and uploaded instantly into Manage. Alternatively, audiologists can also always stay connected with a mobile hotspot.    
As another benefit, data is stored in the cloud as part of Manage, so hearing clinincs can avoid paying additional costs for server storage.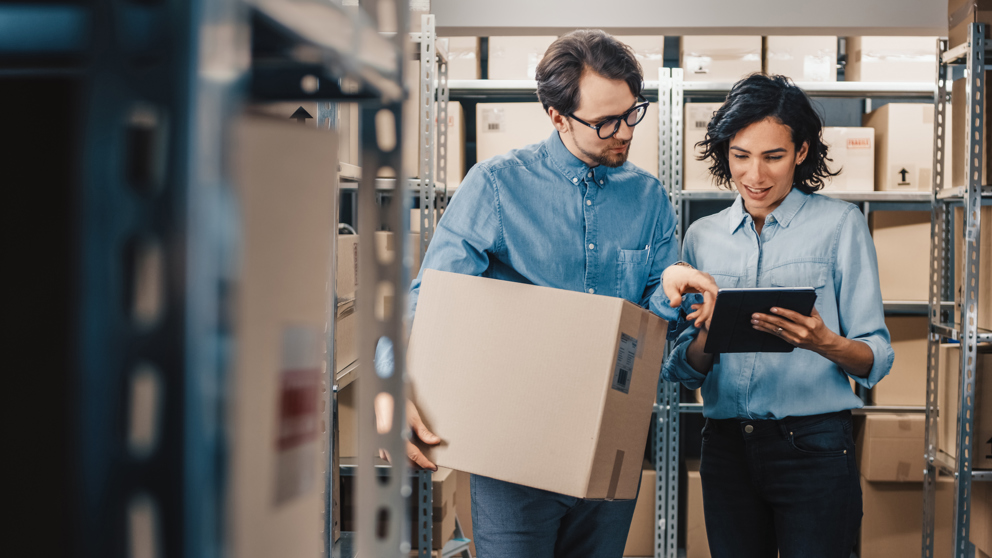 The advanced inventory functions in a PMS allow hearing clinic staff to track, scan, and store serialized items, such as hearing aids and consumables.   
Additionally, these solutions can offer a full stock take module to make it easier, more accurate, and more manageable to track inventory and make orders.   
Companies – especially larger companies – typically conduct a full bi-annually or quarterly inventory and can use a PMS to compile account sheets by location. You can tie it into an inventory control module to ensure everything is accurate and updated across the organization.  
9. Integration To Portable Hearing Screeners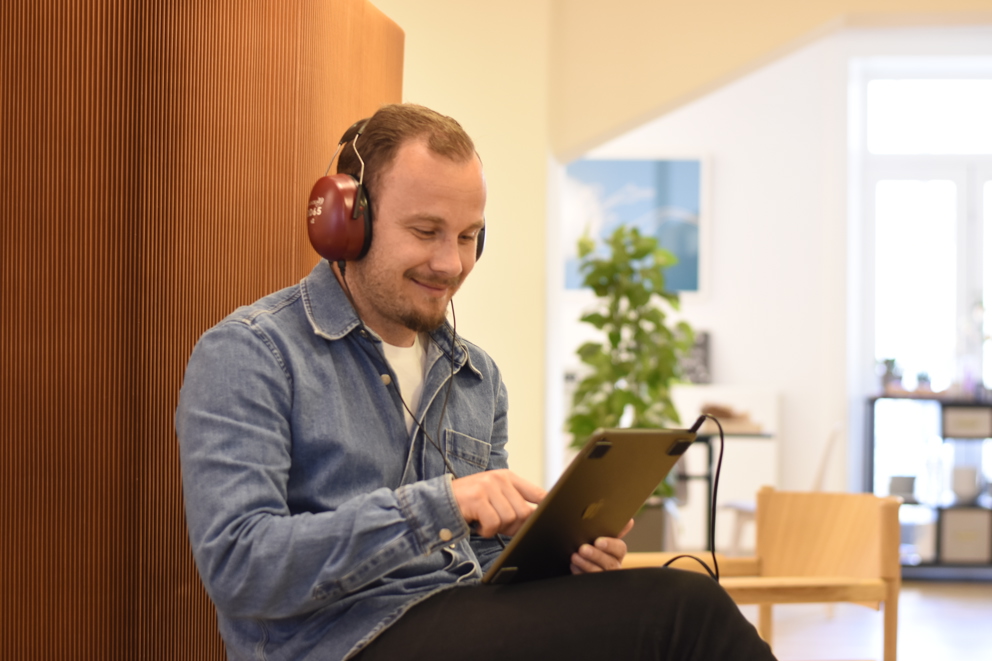 Portable iPad hearing screening solutions allow hearing clinics to conduct hearing screenings anywhere to generate valuable leads.    
Audiology professionals can place a portable screener in an optical shop, doctor's office, local business, kiosks at the mall, or other community locations to generate qualified leads and drive business to their clinics.   
Consumers can take a quick but effective, two-minute screening on a portable screener, and the results go directly to your PMS, as well as to the consumer's email inbox. Then, hearing clinics can use their PMS to follow up proactively with everyone whose results show a hearing loss.   
A hearing screener helps clinics significantly – and cost-effectively – boost lead generation.  
Another way to use the screener is to prequalify leads who are less likely to have hearing loss before they book a time-intensive appointment with one of your audiologists. This allows you to maximize your audiologists' time, having them only see customers with confirmed hearing loss.  
Other Blogs You Might Enjoy:
Don't miss out on the latest insights on audiology 
Sign up today to receive exciting updates, tips, and the latest newsletters from Auditdata.